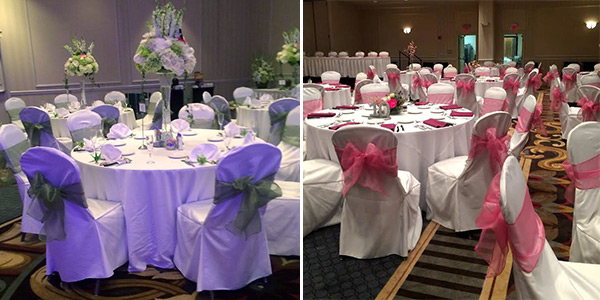 When the time comes to rent linens for your wedding day, make sure you're choosing a provider who understands the tremendous importance of your wedding day and who will work with you to make sure every detail is perfect.
At Satin Chair Covers By Robin LLC, we strive to go above and beyond to provide you with the table linen rentals, organza sashes and satin chair covers rental in Pittsburgh, Washington County, Canonsburg, and Houston, PA you need to put the perfect finishing touches on your wedding.
We have a full range of seat cover rentals for weddings and other products available and will work with you to iron out the logistics of making sure everything is in place for your wedding day—we will even drop off and pick up directly from your venue!
Our Rentals
We're pleased to offer a variety of handcrafted, beautifully unique products to transform your wedding reception hall into something straight out of a storybook romance! Some of the items we can provide you with include:
Satin chair cover rentals: To add beauty, comfort, luxury and allure to your wedding, there's no better option than satin chair covers rentals in Pittsburgh, PA! We provide rentals for weddings of all sizes and will gladly consult with you about your color preferences.
Organza table overlays and satin sashes: To accent your reception we can provide satin and organza table overlays in Pittsburgh, PA, in a variety of colors. These subtle, yet beautiful additions to your hall will make everything else pop vibrantly!
Wedding tablecloth rentals: To complete your wedding hall façade, we're pleased to offer wedding tablecloth rentals in Pittsburgh, PA. We have table cloths in stock for a range of table sizes and well assist you in picking this critical décor element.
Custom accessories: We're pleased to provide a variety of personalized options to add a unique flair to your wedding day. Our capabilities include embroidered ring bearer pillows and satin purses, to immortalize your special day.
Chivari Chair Decor: From ribbons to sashes to covers to lace, we're the experts on decorating Chiavari chairs. A perfect addition to any wedding celebration, Chiavari chair decor can be customized to your wedding or celebration theme.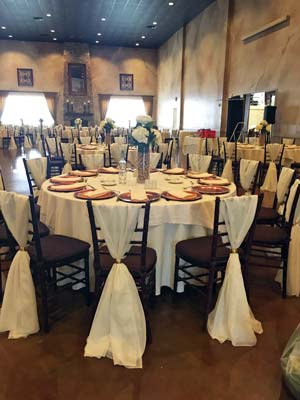 All of our fabrics come in white, ivory, and gold colors, with organza sashes available in the color of your choice. Our overlays are available in a wide range of colors and materials, to fit the look and feel of your wedding. Please note that our satins are for rent only and are not for sale.
For more information about the range of beautiful and unique chair cover rentals and seat cover rentals for weddings that we're able to provide or to consult with us about your unique needs, please contact us today by calling 724-263-7987.